URALAN® in the anniversary year 2017
URALAN® milestones
1967
Founding by Rudolf Kuhn in a garage in Urach, Germany. First customers were Princess, Kettler, Leifheit, Sabo and Gardena.
1968
Moving into the new company building in Rietheim.
1975
Commissioning of the first machine for manufacturing plastic rims instead of sheet steel rims.
1985
Acquisition of a competitor and establishment of a second production site in Geiselwind.
1986
Establishment of own toolmaking shop with turning, milling and eroding machines.
1988
Introduction of the RAM88 standard wheel range with closed wheels.
1993
Relocation to the new plant on Hermann-Staudinger-Straße in Münsingen.
1996
Closing of the plant in Geiselwind and merging in Münsingen.
1998
Taking over of URALAN® by the second generation. Managed by Christian and Johannes Kuhn.
1999
Awarding of quality assurance certificate according to DIN ISO 9001:2000.
2000
The Rietheim plant is expanded to a location for plastic recycling.
Commissioning of 2-component production for plastic wheels.
Introduction of SageBäurer Wincarat PPS system.
2002
Introduction of 3D design for the Development section. Connection to the toolmaking shop with CAM module.
2007
Start of expansion with photovoltaic systems on company's own roofs.
2008
New construction of a second production building and a logistics building.
2009
Introduction of the UXL High Wheel wheel line.
2010
Awarding of environmental certificate according to DIN ISO 14001:2009.
2012
Presentation of award by AL-KO for Best Supplier.
2013
Expansion of the logistics area by 5,000 m2.
Start of production of technical parts with expansion of the Production department.
Purchasing of the first all-electric machine. 7 systems installed until today.
2014
Awarded energy certificate in accordance with DIN ISO 50001 in conjunction with commissioning of the energy monitor.
Third generation joins the company.
2015
Commissioning of largest injection moulding machine to date with 550 t clamping force and 2 kg injection weight.
Introduction of software for simulation of mould flow tool filling.
2017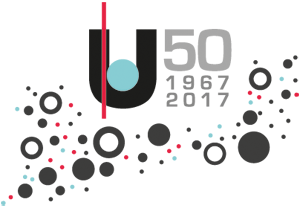 Mai 2017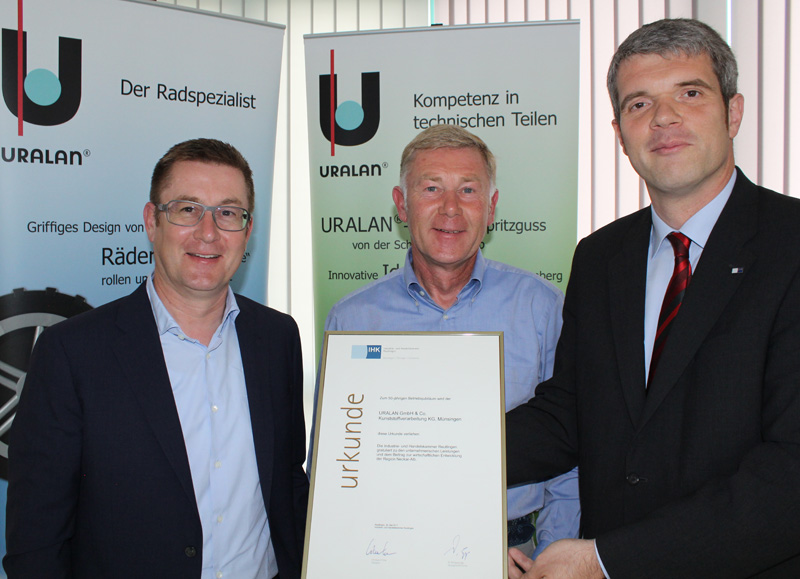 Die beiden Geschäftsführer Christian (mitte) und Johannes Kuhn (links) erhielten anlässlich des 50-jährigen Jubiläums eine Urkunde von der IHK. "Zum 50-jährigen Betriebsjubiläum wird der URALAN diese Urkunde verliehen. Die Industrie- und Handelskammer Reutlingen gratuliert zu den unternehmerischen Leistungen und dem Beitrag zur wirtschaftlichen Entwicklung der Region Neckar-Alb." Herr Christoph Heise von der IHK hob bei der Übergabe hervor, dass es tatsächlich eine überragende Leistung wäre, ein Unternehmen so kontinuierlich zu führen und weiterzuentwickeln.