The objective: enthusiastic customers
URALAN® is certified according to DIN EN ISO 9001:2015. The emphasis on quality accompanies our actions every day. The optimisation of processes, however also the internalisation of the fact that every success is dependent on the constant commitment of each individual. We want to be the market leaders with high-quality concepts.
Measurement, analysis and improvement
Specific instructions for the company members at URALAN® for implementing the individual objectives are described in the "Company Mission Statement": With innovative products, we ensure long-term success for our customers and ourselves.
Keyence digital profile projector
With the digital measuring projector from Keyence, we check initial samples and the dimensional accuracy of the specifications in series production. After preparing a test schedule for each part, the tests are conducted extremely quickly and clear "Pass" or, if necessary, also "Fail" statements result. This provides the tester with conclusive measuring results. The high level of quality assurance and the short checking time or high measuring speed were also the reason for the purchase. We want to guarantee the precision of our parts for our customers with high quality expertise.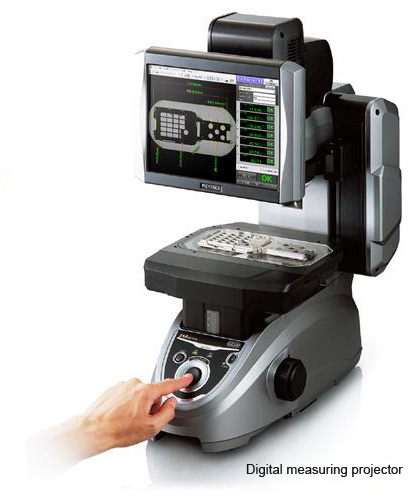 Colour tests in every batch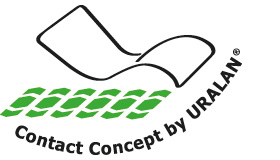 Responsibility for people and ground areas
With the registered brand Contact Concept by URALAN®, the company describes its understanding of the realisation of responsibility for people and ground areas: The exclusion of toxic substances in both recyclates and the other plastic granulates used.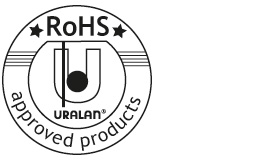 RoHS-compliant
Regular tests are conducted for this purpose to confirm compliance with the RoHS Directive 2011/65/EU. Plastic wheels are the direct interface between a machine and the ground. Indirectly, this is true for all plastic moulded parts on mobile devices. URALAN® does not use any substances toxic to human beings. Nor are any harmful ingredients released into the environment.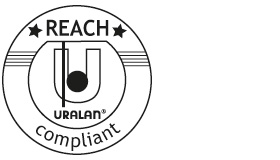 REACH approval
URALAN® proceeds in accordance with the EC Regulation 1907/2006 for the production and distribution of recyclates from the REGURLAN® process. This regulation is concerned with the approval and restriction of chemical substances with the goal of protecting people and the environment.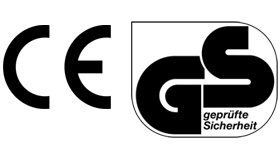 Worthy of a seal of quality
PAK - polycyclic aromatic hydrocarbons are harmful substances in higher concentrations. URALAN® ensures that the values remain uncritical with continuous pollutant analyses. As a result, the final products – based on all URALAN® components – can be marked with the test seals of the German and European regulations.
We make all proof and certificates on compliance with the specifications available, provided they are available to us. We will be happy to issue individual certificates for certain batches subject to reimbursement of our expenses.